West Africa |
Free Travel Brochures
View Basket

The following free holiday travel brochures feature West Africa holidays, tours and packages – click the GET THIS FREE button to order your West Africa holiday brochures.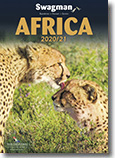 Swagman Tours' wide range of affordable, small group safaris, including camping, throughout Africa is suitable for mature travellers, families, special interest groups and everyone in between. See South Africa, Namibia, Botswana, Zimbabwe, Zambia, Malawi, Mozambique, Tanzania, Kenya, Uganda & Rwanda. Swagman can also arrange holidays to other destinations like Madagascar, Ethiopia and Morocco. With access to special airfares Swagman Tours can create the perfect African Safari from start to finish.
> MORE...
---
---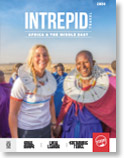 From the crimson-clad Masai warriors and snow-capped Mt Kilimanjaro to Uganda's rare mountain gorillas; from Morocco's cities and Egypt's pyramids to the red city of Petra and the mosques of Iran, lose yourself in adventure. Intrepid is for travellers with a yearning to get off the beaten track, discovering real people, real cultures and having incredible experiences along the way. With a range of styles of travel, Intrepid lets you experience the real world in the safety of a small group.
> MORE...
---
---