Tunisia |
Free Travel Brochures
View Basket

The following free holiday travel brochures feature Tunisia holidays, tours and packages – click the GET THIS FREE button to order your Tunisia holiday brochures.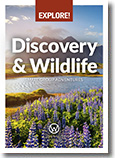 Explore has been taking small groups on adventure holidays for almost 40 years. its authentic travel experiences immerse you in the sights and culture of each extraordinary destination, and Explore works with local tour leaders who are uniquely placed to add spontaneous moments to every trip. Take small groups of like-minded people, add expert tour leaders and comfortable, no-frills accommodation and plan tours that get you closer to the people, the landscapes and wildlife that make our world an amazing place.
> MORE...
---
---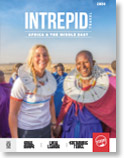 2020 From the crimson-clad Masai warriors and snow-capped Mt Kilimanjaro to Uganda's rare mountain gorillas; from Morocco's cities and Egypt's pyramids to the red city of Petra and the mosques of Iran, lose yourself in adventure. Intrepid is for travellers with a yearning to get off the beaten track, discovering real people, real cultures and having incredible experiences along the way. With a range of styles of travel, Intrepid lets you experience the real world in the safety of a small group.
> MORE...
---
---