Ski |
Free Travel Brochures
View Basket

The following free holiday travel brochures feature Ski holidays, tours and packages – click the GET THIS FREE button to order your Ski holiday brochures.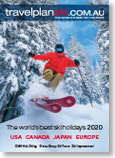 Discover the world's best ski holidays to the USA, Canada, Japan and Europe. Travelplan is Australia's leading operator of quality snow holidays to the world's great resorts, and one of the world's most successful and respected operators for over 42 years. Don't leave your dream holiday to chance - make the right choices from the best advice. Savings are available on all components of your holiday including: airfares, accommodation, lifts, lessons, ski and board hire, transfers and resort services. Earlybird Deals!
> MORE...
---
---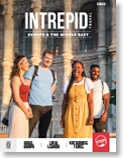 Explore the museums of Florence, wander through ancient theatres in Athens; journey across Eurasia … Intrepid is for travellers with a yearning to get off the beaten track, discovering real people, real cultures and having incredible experiences along the way. With a range of styles of travel, many using local transport, Intrepid lets you experience the real world in the safety of a small group. Independent short breaks, urban adventures and sailing adventures. EarlyBird Deals!
> MORE...
---
---