To order this holiday brochure for FREE delivery to your home or computer, click the GET THIS FREE button.
India is a country like no other
Immerse yourself in India and discover a spiritual heartland awash with romantic palaces, ancient temples and unique experiences.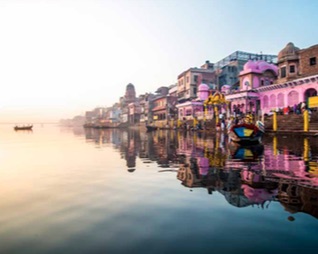 Northern India sizzles with a colourful vibrancy like no other.
The splendour and romance of Rajasthan is evident in the glamourous palaces and forts of the maharajahs that have been transformed into luxury hotels. The cool hill stations in the Himalayan foothills and tea plantations sit alongside vibrant and chaotic cities. The tropical south of India is vastly different to the north – in its character, scenery and cuisine. It is renowned for its relaxed, almost spiritual culture, lush scenery, welcoming people, gourmet food and amazing spas and resorts.
Adventure World has been crafting unique and extraordinary journeys to India for over 35 years, so you can rest assured that you're in safe and experienced hands. From authentic home stays to maharajahs' palaces, luxury trains to trekking adventures and wildlife safaris to holistic wellness, Adventure World offers a comprehensive range of experiences in India. Adventure World's expert travel designers have visited these regions and have the knowledge to tailor any journey to suit you. Your choices for your Indian adventure are endless and Adventure World can take you there.
Four types of experience
Culture & Heritage
There's no better way to experience India than by immersing yourself in the vibrant, colourful culture. Gain a genuine appreciation of the country by learning directly from those who truly understand it. On Adventure World's Indian journeys, you can meet and stay with locals, explore historical sites and marketplaces and indulge in traditional delicacies.
Wildlife & Wilderness
Getting up close and personal with wildlife and seeing animals in their natural environment is a unique, amazing and surprisingly touching experience. By exploring mountains, lakes, gorges, plains and rainforests, you'll feel a connection to a place and its wild inhabitants.
Active Adventures
Many of Adventure World's adventures can be found in a 'hard adventure' category but physical exertion is not the aim. There's always a comfortable night's sleep at the end of an active day. Check out Adventure World's active adventures page for a selection of journeys through the foothills of the Himalaya and tropical Kerala.
Special Interest
Sometimes there is that one special 'something' that seizes your imagination and you find that you have to go there, or you have to experience it. India is home to so many special experiences that span the length and breadth of the country. Ancient Indian traditions that focus on holistic wellness and health can be found at the foothills of the Himalaya and avoursome culinary journeys take you from the street food of Mumbai to a luxurious restaurant in the Amber Fort.
This brochure covers the regions and holiday types listed below. Click on the links to see more free travel brochures covering the regions and holiday types you are interested in.