Small Group Tours of Italy View Basket
To order this holiday brochure for FREE delivery to your home or computer, click the GET THIS FREE button.
Discover the heart and soul of Italy on these genuine small group tours
See this amazing country like never before; this is Italy in a new light... come and get carried away.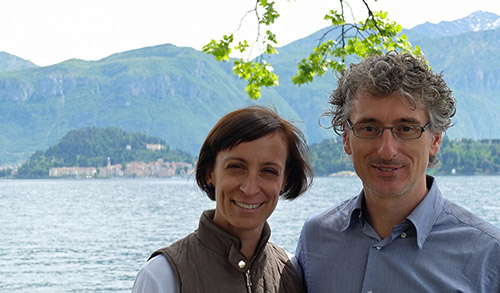 Italian Tours offers the ideal Italian experience – a fun holiday in really small groups where individuals matter. Luca and Philippa personally see to all aspects of the development and organisation of each tour. You will be attentively looked after by bilingual tour leaders from the start of the tour to the final courtesy transfer to the airport where they see you safely off.
Small groups – a maximum size of 12 people and minimum of just 6
Easy pace – plenty of time to stop and look around
Guided walking tours with local guides at key attractions
Knowledgeable, bilingual tour leader on hand 24/7
Focus on regional food and wine – many restaurants certified by the Slow Food Association
Organised visits to local wine and food producers
Boutique hotels (mostly 4 star) chosen for their location, character and comfort
Italian Tours provides an Italy with immense appeal. How? Well, unlike other travellers, you won't be heading off on the same old well-worn tourist tracks, but you will see all the special places, feel the passion, meet the people, taste the food, drink the wine and more. From the classic beauty and buzz of Milan to the intimacy of village markets, from friendly locals to unique insights into the different cultures and histories of each region, from the romantic lakes of Como to Parma, the food capital of Italy... these tours are made for you.
Florence, Rome, Verona, Venice, Lake Como, Milan, Trieste, Turin, the Dolomites and Puglia ... just the names are inspiring, aren't they? Now hand it all over to the experts.
These tours are small, intimate with personal service and attention to detail. You'll never miss out because the group is too large.
All the landmark locations, the historical interest, the cultural must-dos are served up in generous proportions and in first-class style.
Your Italian trip should be a rewarding and truly memorable experience. To get the most out of your holiday, slow down and take the time to listen, look around and appreciate your surroundings. On these tours, you will travel over short distances, stay in small, boutique hotels and to be part of a really small group.
Connect with Italian culture through its people and customs. Italian Tours works with people who have authentic local knowledge of the area: certified drivers, local producers and guides who understand the art, food and historical facts of their region. You will experience a genuine local lifestyle, walking the fresh food markets, seeing how quality wine and olive oil is produced and tasting typical dishes in Slow Food trattorie that care about the environment.
Let Italian Tours share with you the culture they know and love!
The Great Gardens of Italy

Milan and the Italian Lakes

Discover the Italian Lakes
Puglia, the Road Less Travelled
Tastes Tour: Piedmont and Valle D'Aosta
This brochure covers the regions and holiday types listed below. Click on the links to see more free travel brochures covering the regions and holiday types you are interested in.