To order this holiday brochure for FREE delivery to your home or computer, click the GET THIS FREE button.
Special Journeys | Escorted Tours | Coastal Cruises | Tailor-Made Tours | City Stay Packages
Croatia | Greece | Turkey | Slovenia | Montenegro | Albania | Macedonia | Serbia | Bosnia & Herzegovina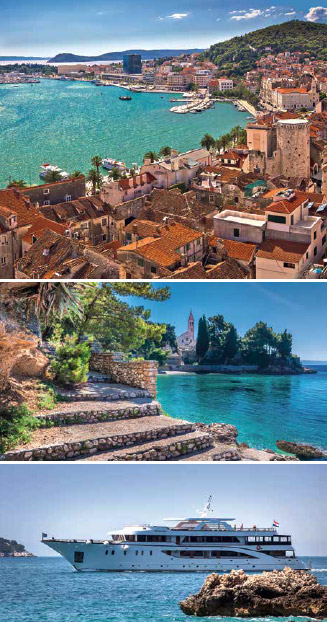 Beyond Travel offers you the largest range of products and services available in Australia & New Zealand for Croatia, Turkey, Greece, Slovenia, Romania, Macedonia, Montenegro, Serbia and Bosnia & Herzegovina. Featuring independent itineraries for travellers who want to do their own thing, fully escorted tours, exclusive small group tours, hotels, sightseeing options and a great selection of Dalmatian Island cruises – with a range of small ship cruise options!
The region offers visitors great value and a wealth of wonderful treasures to discover from beautiful beaches, medieval castles and Orthodox monasteries to Ottoman mosques spectacular coastlines and charming villages.
Beyond Travel has partnered with Croatia and the Balkans' most respected local operators to bring you a selection of the most extraordinary journeys combining all the must do inclusions, some of the best hotels and exceptional guides and with enough free time to personalise your travel.
Whether you are travelling solo or with a partner, family, friends or a group; and whether you are visiting for the first time or coming back for more, this selection of escorted tours, private tours and small ship Croatian and Greece cruises will provide the perfect foundation for your trip of a lifetime! Travel on a Signature Journey or extend your stay with a City Stay Packages.
Discover the history, culture and architecture of preserved old towns and modern cities in Croatia and the Balkans and be captivated by the beauty of Croatia, Greece, Turkey, Slovenia, Montenegro, Albania, Macedonia, Serbia, Bosnia & Herzegovina.
Beyond Travel has been helping Australians & New Zealanders to explore the region since the end of the Balkans conflict, combining competitive rates with expertise and friendly service. Experience these fascinating destinations with Beyond Travel, the Balkan specialists.
Your Choice of Travel Style
Beyond Travel offers the widest selection of hotels and sightseeing tours at competitive prices. Each city you explore has its own special charm, historical attractions and cultural highlights. Choose from a wide range of packages for independent travellers who want to do their own thing, as well as fully escorted tours to suit every budget.
Escorted & Tailor-Made Tours
If you enjoy the comforts of group travel, select from a wide range of tours that feature first class hotels, experienced tour guides, comprehensive sightseeing and most meals. For the independent traveller, Beyond Travel has created a choice of suggested, yet flexible tours which provide you with not only prebooked accommodation, transfers and "must see" sightseeing, but also maximum free time to explore at your own pace.
Special Small-Group Journeys
As a specialist tour operator in Eastern Europe, Beyond Travel brings you a series of exciting, small-group Special Journeys. These English-only tours provide an unrivalled travel experience and offer unique features and inclusions not available on most standard tours. Stay in central, 4-5 star hotels, travel on a privately-chartered ship or by luxury train, and enjoy having most meals and gratuities included. These Special Journeys are designed to provide you with a comprehensive yet intimate discovery whilst maintaining high levels of comfort and convenience.
Small Ship Cruises
For those seeking a unique and authentic travel experience in Croatia and Greece, Beyond Travel is pleased to present its range of small ship cruises featuring premium small ships, new Cruise Tours and great value cruises. Explore and discover when you set sail on a journey to Europe's most captivating coastlines and beautiful islands with magnificent scenery, crystal-clear waters, rich culture and tradition! In Croatia ships feature up to 20 cabins or 30 to 40 passengers. While in Greece cruises are slightly larger with up to 36 cabins and 50 to 70 fellow cruisers.
Your Specialist Team
Beyond Travel's team of specialist staff is knowledgeable about all aspects of your destinations and tours. They travel extensively and personally evaluate the hotels and local tour operators on an ongoing basis, giving you access to helpful and accurate advice at all times to get the most out of your holiday.
Solo Traveller's Club
Beyond Travel offers solo travellers prepared to share on a Special Journey tour the opportunity to make new friends whilst saving on single supplements.
Guaranteed Security
Beyond Travel is an Australian-owned, privately-operated company. As a member of the Travel Compensation Fund and Council of Australia Tour Operators, Beyond Travel is licensed by the New South Wales Department of Fair Trading, so you know you have the security and protection that all travellers expect.
Beyond Travel invites you to explore these fascinating destinations that will surprise and delight even the most seasoned of travellers.
Inside this brochure
Signature Journeys

Croatia And Slovenia By Land & By Sea - Venice To Dubrovnik
Croatian And Slovenian Encounter - Dubrovnik To Venice
Magical Croatia - Zagreb To Dubrovnik

Escorted Tours

Zagreb To Venice - Zagreb To Venice
Dalmatian Sunshine - Dubrovnik To Zagreb
Croatian Rhapsody - Zagreb To Dubrovnik
Croatian & Slovenian Delight - Zagreb To Split
Grand Balkan - Zagreb To Dubrovnik
A Balkan Journey - Zagreb To Zagreb
Experience Slovenia – Ljubljana To Ljubljana
Grand Tour Of Greece – Athens To Athens
Classical Greece & Meteora - Athens To Athens
Marvellous Turkey - Istanbul To Istanbul
Charming Turkey - Istanbul To Istanbul

Cruise Croatia – Small Ship Cruise

Best Of Dalmatia - Dubrovnik To Split Or Reverse
Balkan Highlights - Dubrovnik To Rijeka
One Way Discovery Deluxe – Split To Dubrovnik Or Reverse

Cruise Greece

Jewels Of The Cyclades - Athens To Athens
Classical Greece - Athens To Athens

Tailor-Made Tours (For The Independent Traveller)

Island Hopping Southern Dalmatia - Split To Dubrovnik
Croatian Charm - Venice To Dubrovnik
Highlights Of Croatia – Zagreb To Dubrovnik
Slovenia, Istria & The Dalmatian Coast - Zagreb To Dubrovnik
Authentic Cyclades - Athens To Athens
Island Hopping In The Cyclades - Athens To Athens
A Taste Of Greece - Athens To Santorini
Essentail Turkey - Istanbul To Istanbul

City Stay Packages (Accommodation, Sightseeing And Transfers)

Bled, Slovenia
Ljubljana, Slovenia
Zagreb, Croatia
Split, Croatia
Dubrovnik, Croatia
Rovinj, Croatia
Plitvice, Croatia
Hvar, Croatia
Korcula, Croatia
Istanbul, Turkey
Athens, Greece
Mykonos, Greece
Santorini, Greece
This brochure covers the regions and holiday types listed below. Click on the links to see more free travel brochures covering the regions and holiday types you are interested in.