Europe, Britain & Ireland Small Group Tours View Basket
To order this holiday brochure for FREE delivery to your home or computer, click the GET THIS FREE button.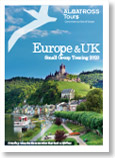 This brochure is no longer available on this website.
European tours personally designed for you!
Britain | Ireland | Italy | Sicily | France | Switzerland | Germany | Belgium | Holland | Austria | Spain | Portugal | Croatia
Albatross designs tours specially for you - the Australian and New Zealand traveller. Itineraries offer a balance of included regional and city sightseeing, along with longer stays, guaranteed "My Time", more inclusions, more experiences and sensible itinerary planning.
Albatross understands that you want more from an escorted tour than a few hurried, all too brief visits and long drives on a coach.
With Albatross, it is all about your touring experience.
Why travel with Albatross Tours?
Discover a different style of touring, one that offers you genuine, in depth European experiences, wonderfully enjoyable and fulfilling holidays.
1. Designed for you
Unique tour itineraries designed to suit the travel needs of Australians and New Zealanders.
2. Longer stays
Enjoy 2, 3, 4 and even 5 night stays in each captivating city or region.
3. Small, more intimate groups
Travel with a small group of like-minded travellers with group sizes from just 10 to 28 travellers!
4. Genuinely inclusive
We guarantee there are NO 'optional' activity costs - even your 'end of tour' tips are included.
5. See more, experience more
Each tour is packed with fabulous local dining, high quality excursions and authentic experiences.
6. Unique Accommodation
Stay in first class, character style accommodation in superb locations.
7. 'My Time' Guaranteed!
We guarantee your 'My Time' so you can relax and truly enjoy the destinations you have travelled so far to see.
8. Experience you can trust
We have well over 20 years of experience in successfully creating and operating market leading European tours.
This brochure covers the regions and holiday types listed below. Click on the links to see more free travel brochures covering the regions and holiday types you are interested in.