Winter Tailor-Made Collection – USA, Canada, Europe, Asia View Basket
To order this holiday brochure for FREE delivery to your home or computer, click the GET THIS FREE button.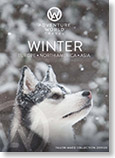 This brochure is no longer available on this website.
Winter wonderlands in Canada, Alaska, USA, Europe & Asia
Canada | Alaska | USA | Iceland | Norway | Italy | Slovakia | Poland | Romania | Turkey | Japan | China
TAILOR-MADE COLLECTION – Northern Lights, Winter Activities, Rail Journeys, Polar Bears, National Parks, Wildlife, Ranches & Lodges, Festivals

No two people are the same, so why should your travel style be any different? Whether it's finding authentic experiences or the thrill of adventure that drives you, Adventure World's expert travel designers are committed to providing you with a holiday that exceeds your expectations.
Your dream experience could be coming face to face with the fascinating wildlife of Canada, learning to snowshoe in Banff National Park, taking a sleighride along the shore of Lake Louise or watching the changing colours of the Northern Lights twinkle overhead.
In Alaska, you could cross the Arctic Circle, attend the world famous Iditarod sled-dog race, or snowshoe and dogsled through a pristine winter wonderland before settling in at a remote wilderness lodge for the night while you search for the Northern Lights.
Lapland, encompassing the far north of Norway, Sweden and Finland, is full of magical encounters with local Sami reindeer herders and outdoor adventure such as dogsledding and snowmobiling through pristine winter landscapes. Of course, the region offers some of the best opportunities to witness the Northern Lights anywhere in the world.
Your adventure awaits, get this brochure now to awaken your travel dreams.

This brochure covers the regions and holiday types listed below. Click on the links to see more free travel brochures covering the regions and holiday types you are interested in.