Canada, Alaska & High Arctic View Basket
To order this holiday brochure for FREE delivery to your home or computer, click the GET THIS FREE button.
What makes Adventure World extraordinary?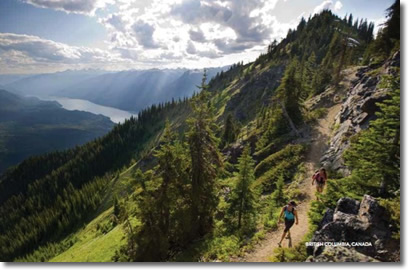 You sit back, glass in hand, enjoying through the trees as you reminisce on your favourite parts of the day.
It's a rewarding feeling, buoyed with fresh memories of unexpected adventures, plenty of laughs and some incredible food. In this very moment you come to understand why we create journeys the way we do.
After an exciting morning of activities, a welcome lunch was spent chatting with new friends whose ancestors have lived in the area for generations. A peaceful afternoon brought encounters with wildlife that you never thought you'd see, in a jaw-dropping landscape that you know you'll never forget.
And when you are on the verge of sleep, beneath a million stars and ensconced in a suite representing the essence of unique travel, you will know why so many people embark on a life-long love affair with the wonderful continent of North America.
Adventure World goes above and beyond to create unique and extraordinary experiences – awe-inspiring, incredible moments that will take pride of place among your memories.
Adventure World will build your dream journey
For over 40 years, Adventure World has been crafting holidays for New Zealanders to spectacular and exciting lands. Adventure World is perfect for the traveller who likes to experience unique destinations in comfort and discerning style with an emphasis on exploring local cultures.
The Places You'll Stay
Unique, authentic accommodation is one wilderness lodges to small ship cruises and luxury trains.
Adventure World's Tailor-Made Touch
While Adventure World offers a range of scheduled trips, its tailor-made journeys are what it does best. Adventure World's resources and experience mean your adventure can be all you dreamed about and more.
Experiences Designed For You
Whether you're after wildlife and wilderness, culture and heritage, an active adventure or simply a unique experience, Adventure World knows how to create an extraordinary itinerary.
Adventure World knows that every one of its travellers is unique, and so is every journey. Adventure World's travel designers have personally visited the regions they specialise in, and have expert knowledge to tailor any journey to suit your trip style.
Adventure World's Leaders On The Ground
Adventure World guides are archaeologists, mountaineers, conservationists, photographers, and more, so you'll always be safe and surrounded by passionate and knowledgeable company.
Adventure World prides itself on its extensive, first-hand knowledge and personalised service its team of experts can offer.
You can rest assured that you will be accompanied by the best local guides and escorts, offering unparalleled local knowledge to bring each location to life.
Adventure World's Promise To You
Adventure World's reputation is built on providing quality service with real personal touches. Adventure World understands the importance of giving attention to even the smallest of details.
Adventure World will organise everything, from transfers, to local guides, with its well-known attention to detail and its specialist knowledge.
Exceptional customer service is behind everything Adventure World does. Adventure World's team and partners always deliver, before, during and after your journey. Adventure World is with you all the way.
Inside this brochure
Canada

Canada Trips
Vancouver Accommodation
Small Ship Cruises
Western Canada Bear Viewing
Western Canada Lodges & Ranches
Western Canada Trips
Eastern Canada Trips
Yukon & Northwest Territories Trips

Alaska

Alaska & Yukon Trips
Anchorage Accommodation
Alaska Wildlife Packages
Alaska Lodges
Alaska Trips
Small Ship Cruises

Arctic

Canadian Arctic Trips
Canadian Arctic & Greenland Trips
European Arctic Trips

Winter in Canada & Alaska

Western Canada Winter Trips
Yukon Winter Trips
Northwest Territories Winter Trips
Alaska Winter Trips
Eastern Canada Winter Trips
Dog Sled Racing Packages
This brochure covers the regions and holiday types listed below. Click on the links to see more free travel brochures covering the regions and holiday types you are interested in.