Arctic & Antarctic – Polar Expeditions 2019-2020 View Basket
To order this holiday brochure for FREE delivery to your home or computer, click the GET THIS FREE button.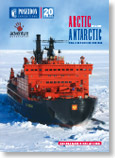 This brochure is no longer available on this website.
Discover your next favourite place
British Isles | Spitsbergen | Franz Josef Land | Greenland | Iceland | North Pole | Antarctic Peninsula | Falkland Islands | South Georgia |

Adventure Associates is proud to announce the Poseidon 2019-20 collection of expedition voyages to the Polar Regions.
It's going to be a great season, returning to some favourite places including the British Isles, Spitsbergen, Franz Josef Land, Greenland, Iceland, the North Pole, the Antarctic Peninsula, the Falkland Islands and South Georgia.
Poseidon Expeditions' goal is to provide curious, discerning travelers with the perfect combination of comfort and personable service, balanced with maximum opportunities for outdoor activities in the spirit of adventure.
In 2019, Poseidon Expeditions marks 20 years as a pioneer of polar expedition cruising. Poseidon Expeditions is proud of its long list of cruising firsts and notable achievements. But its greatest pride is in the satisfaction it has brought to over 17,000 passengers since 1999. Poseidon Expeditions looks forward to making polar dreams come true for decades to come.
Like nowhere else on Earth, the Polar Regions evoke feelings of exhilaration and tranquility - a euphoria of the spirit that happens when we are reconnected with truly wild places. Be it in the majesty of a polar bear's walk, the brilliance of Greenland's aurora, or the immensity of Antarctica's icescapes, the Polar Regions are proof that Nature has wonders yet to reveal to those who seek them earnestly. By exploring these magical places in an in-depth way, you will be enriched by the peace and equanimity they inspire - not only in the many sublime moments of your voyage, but for as long as you live.
The essence of the Polar Regions exists in all Poseidon's destinations. In each of these very special places you will also find many unique and unexpected qualities. Follow your dreams through these pages to a voyage of your heart's choosing and discover your next favourite place in the Polar Regions with Poseidon and Adventure Associates.
Inside this brochure
BrITISH ISLES
ARCTIC
Greenland
Iceland
Spitsbergen
Franz Josef Land
ANTARCTIC
Antarctic Peninsula
Falkland Islands
South Georgia
NORTH POLE

This brochure covers the regions and holiday types listed below. Click on the links to see more free travel brochures covering the regions and holiday types you are interested in.