Europe & North America Cruises View Basket
To order this holiday brochure for FREE delivery to your home or computer, click the GET THIS FREE button.
Finest Cuisine at Sea™ | Destination Immersion Specialists | Intimate & Luxurious Ships
Mediterranean | Baltic, Scandinavia & Northern Europe | Alaska | Canada | New England, USA | Caribbean | Transoceanic voyages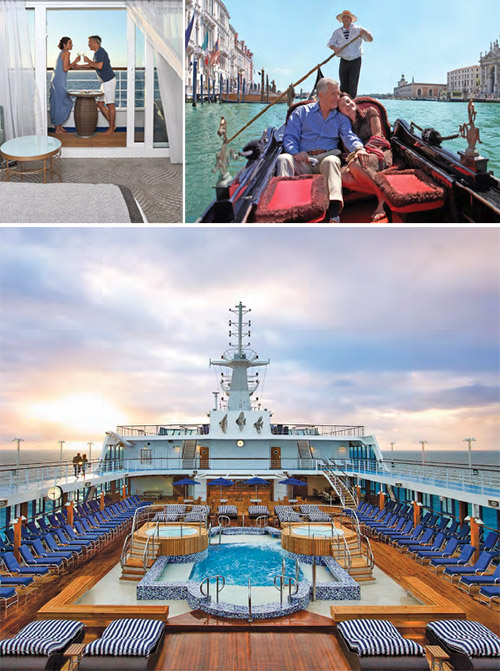 This newest collection of voyages brings you immersive, imaginative travel experiences in some of the most alluring corners of Europe and North America.
Explore beguiling and lesser-known destinations across Northern Europe and the Mediterranean with an extensive array of boutique new ports such as the striking fishing village of Klaksvík on the Faroe Islands, the enchanting Norwegian coastal town of Molde and the Greek paradise of Paros.
Delve deeper into the culture and history of Turkey with calls on compelling destinations such as Istanbul, Ephesus and Bodrum.
Cruises in bold and beautiful Alaska offer endless opportunities to experience the best of the stunning scenery and majestic wildlife in their natural surroundings, while sojourns along the Eastern Seaboard are the perfect way to savour the particular charm of the region as it bursts with vibrant colours.
Sail away on the journey of your dreams with Oceania Cruises.
For travellers seeking a truly refined and casually elegant experience, Oceania Cruises, the world's leading upper premium cruise line, offers world-class cuisine, unparalleled personal service, a luxurious onboard ambiance and enriching destination experiences.
The Finest Cuisine at Sea, Destination Immersion Specialists and Intimate & Luxurious Ships define Oceania Cruises' five-star product.
Featuring a fleet of warm and luxurious ships, Oceania Cruises offers an unrivalled holiday experience renowned for destination-rich itineraries spanning the globe and a gourmet culinary program inspired by Master Chef Jacques Pépin. Seasoned world travellers are drawn to Oceania Cruises' diverse voyages, which call on more than 450 ports across Europe, Asia, Africa, Australia, New Zealand, the South Pacific and the Americas. Spacious and elegant accommodations aboard the 684-guest Regatta, Insignia, Nautica and Sirena and the 1,250-guest Marina and Riviera invite guests to explore the world in unparalleled comfort and style.
Enchanting explorations - Mediterranean
Featuring the most diverse array of Mediterranean voyages, these journeys along the French and Italian Rivieras, the Greek Isles and beyond draw you deep into the enchanting experiences that draw travellers back to the region again and again. Intriguing new routes invite you to explore destinations such as Castellón, a 13th-century secret hideaway on Spain's orange grove-dotted Costa Azahar. Farther north, delight in a traditional paella dinner in a seaside café in Barcelona. Linger on the beach in chic Saint-Tropez and roam the Tuscan countryside, celebrating the beautiful landscape and tasting the fine wines and delicious olive oils that are the fruits of its fertile lands. Fall in love with the pleasures of the Mediterranean all over again aboard our intimate and luxurious ships.
The Baltics, Scandinavia & Northern Europe
As the growing sunlight dances across sparkling seas throughout the northern reaches of Europe and the pleasures of summer unfold once again, the enchantment of this region beckons unlike any other. In Norway, explore off-the-beaten-path ports, including mountainous Bodo, where you will feel like you are walking through fairytale lands and Haugesund, known as the Homeland of the Viking Kings. Discover the picturesque village of Fishguard in Wales and stunning vistas of the rugged coastline of North Pembrokeshire. Experience the far reaches and dramatic landscapes of Iceland and Greenland, or revel in the cosmopolitan delights of cultural capitals such as Copenhagen, Amsterdam and Helsinki. Wherever you sail across Northern Europe, Scandinavia and the Baltic, you will uncover gilded treasures and immense history throughout these storied lands.
TransOceanic voyages
When you are travelling on one of Oceania Cruises' luxurious ships, where staff and crew attend to your every whim, there is a lot to be said for indulging in an extended journey or transoceanic voyage. Enjoy in-depth explorations of fascinating destinations and uncover the mighty glaciers of Iceland, unique flair of Copenhagen and medieval gem of Bruges. Or perhaps enjoy the perfect blend of intriguing ports with relaxing days at sea. Marvel at the medieval Blarney Castle near Cork one day, and the next drift away during a hot-stone massage. Or you might discover that a morning yoga class and day spent poolside are the perfect preparation for exploring Bermuda's historic forts or enjoying an exciting round of golf.
The Joys Of OLife™
Whatever corner of the globe beckons to you, Oceania Cruises takes you there in comfort and style. Relax aboard one of Oceania Cruises' six intimate and luxurious ships catering to just 684 or 1,250 guests, and discover what OLife™ truly means. From the moment you step on board, you feel welcomed by Oceania Cruises' casually sophisticated atmosphere and dedicated staff. Savour exquisite cuisine renowned as the finest at sea and spend the days exactly as you wish. Perhaps attend an engaging guest lecture, sip a cocktail poolside or simply relax on your private veranda as you gaze out on ever-changing vistas. It's the ultimate satisfaction of enjoying every moment of the experience in your own way.
The Oceania Cruises Difference
The Finest Cuisine at Sea
A variety of distinctive open-seating restaurants, all at no additional charge
Gourmet cuisine curated by world-renowned Master Chef Jacques Pépin
Epicurean enrichment programmes, including immersive Culinary Discovery Tours in the world's most fascinating destinations
Award-winning itineraries featuring more than 450 alluring destinations
Spectacular port-intensive voyages featuring overnight visits and extended evening port stays
Intimate, luxurious ships catering to just 684 or 1,250 guests
Exceptional personalised service
Elegant casual ambience, no jacket or tie required
The Oceania Cruises Experience
Destination-intensive itineraries ranging from 7 to 180 days
Overnight and extended stays in many ports allow for in-depth exploration and easygoing touring
A refreshing mix of popular destinations, boutique ports and seaside villages
Extensive variety of small group shore excursions focused on culture exchanges, history, adventure and cuisine
Culinary Discovery Tours™ that explore traditional markets, visit renowned restaurants and more
Enjoy cocktails, dinners ashore or full-day excursions with late evening departures on many voyages
Free shuttle service from ship to many city centres
This brochure covers the regions and holiday types listed below. Click on the links to see more free travel brochures covering the regions and holiday types you are interested in.